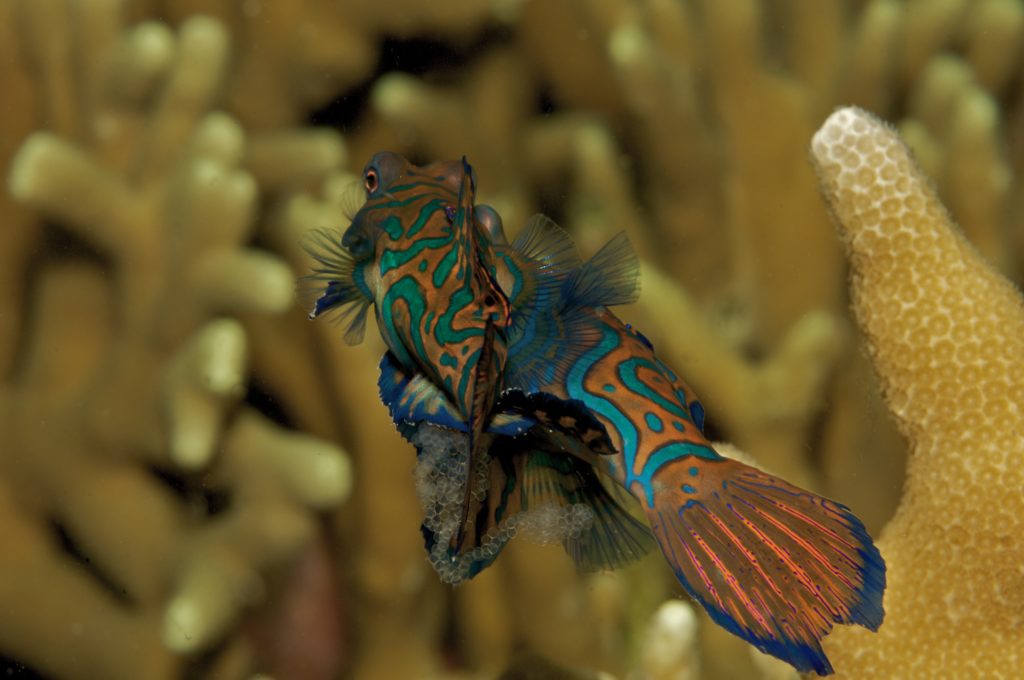 This reef is a nice reef to get you started for checkup dives and courses. We take our open water divers here for their first open water training dives as well. For experienced divers, this site will be excellent for a night dive. There are plenty of crustaceans roaming around in the dark as for example the massive sponge crabs. You can also start at twilight with the shy but very pretty mandarinfish doing their intimate under- water courting and then continue with lots of different slugs, eels, squid and octopus. If you're lucky you may even see the blue ringed octopus. All these creatures await you for a night dive. Surely not a thing to miss.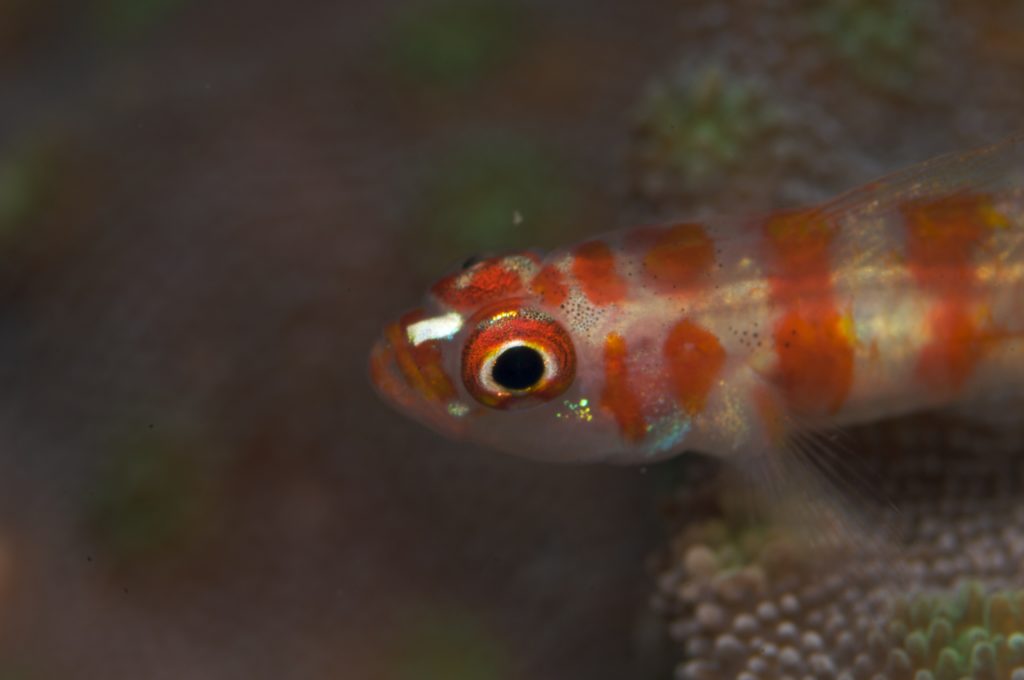 On the top of this dive site there is a beautiful bow-shaped cliff where lots of nudibranches can be found. Peacock mantis shrimp lure in their burrows and hunt in
a beautiful coral garden right next to the drop-off where lots of small fishes like the red-amethyst-purple fin anthias gather. At the bottom of the sandy slope are many spledid sand eels and spotted garden eels dug in the sand. You can sometimes find ornate as well as robust ghostpipefishes hiding in the feather stars. there are batfish schools as well as cascades of snappers decorating the reef wall. This is a great dive site for night diving as well.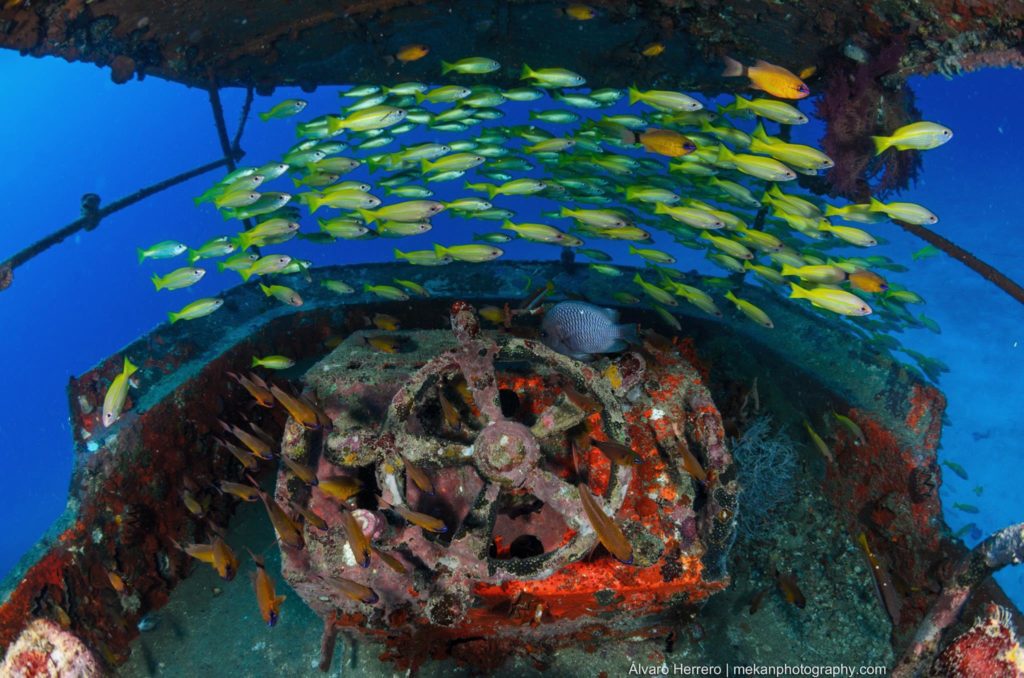 Dropping down in the blue to find this invaluable gem sitting on the sandy bottom, this little shipwreck is a true blessing. Only AOW divers and up can visit this beautiful 15m long wreck which serves as the enormous home for dozens of different types of fishes. Besides the casual frogfishes and ghostpipefishes here, there are always extremely big lionfishes, and scorpionfishes present. There is plenty of fish activity in this yacht and going there, even though we can only stay around 10 minutes or so, it never disappoints. After swimming around and through the wreck, there are lots of pipefishes to be found in the sand on the way back. Usually we combine this dive site with Atlantis or Garden Eels depending on the air usage of the participants, which can make for a very varied dive experience for the most economic among divers.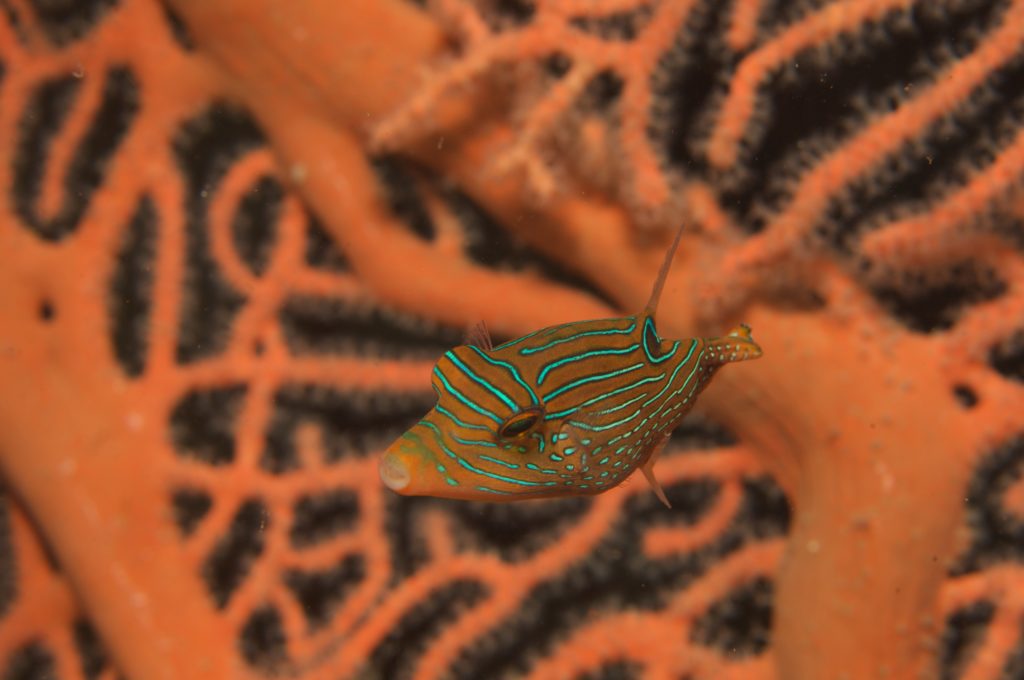 Our favorite local wall dive with lots of soft & hard corals, sea fans, some grouper and small barracuda has u very unique, baroque feel to it. The wall is very impressive and covers a massive area. There are breath-taking vase and leaf sponges everywhere. At the bottom, covered in lettuce corals, there is a sandy slope that starts at 18m and ends at around 30m at what used to be an old bangka wreck. You can still see the sand-filled tanks they used to sink the vessel. Next to the shrimp— infested remains of the wreck lives a resident, bright white spearing mantis shrimp. In the rubble of the slope there can be many thorny seahorses at times and warty frogfishes. If you are interested in seeing flamboyant cuttlefish or Pegasus sea moths this is also the place to look for them.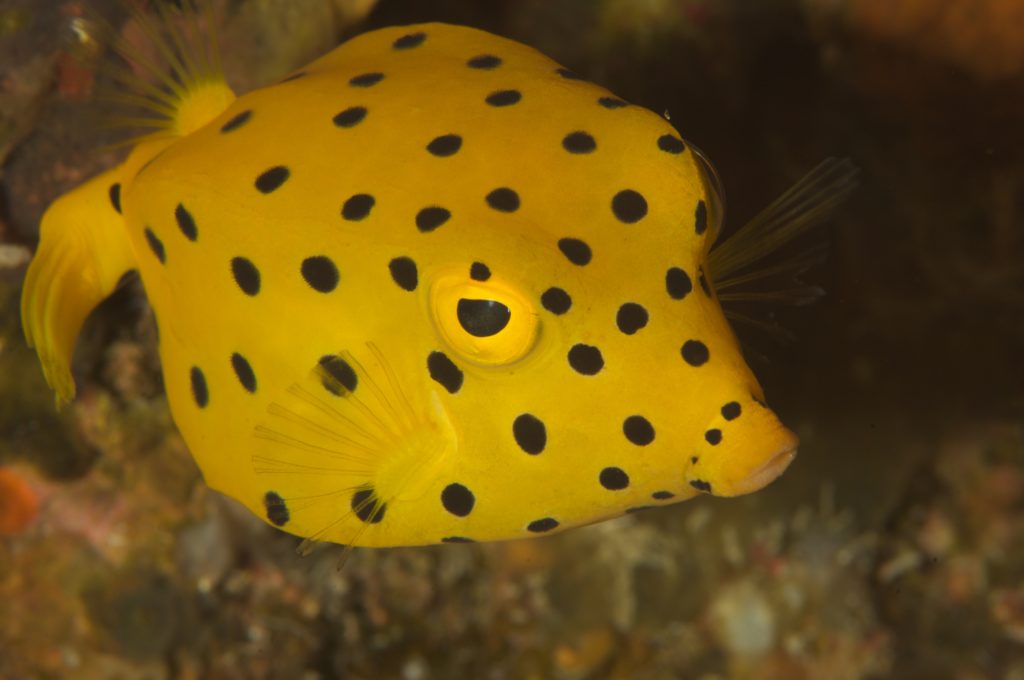 This reef is a nice place to get you started for checkup dives and courses as well. Our AOW courses do their navigation dives there most of the time. For experienced divers, this site will be excellent for a nice old muck dive. There are plenty of cephalopods hiding here in the seagrass. There is a resident wonderpus but he is not easy to find most of the time. Swimming around the dive site around 20m you can usually find some longhorn trunkfishes squirting the sandy bottom in their quest for food. Tigertail and thorny seahorses are clinging to the seagrass most of the time. If you move slowly you can see seamoths and flying gurnards here, besides the many commensal shrimps in the plethora of anemones covering the sandy slope. When you are tired of the sand, the slope gradually converts into a nice little coral wall.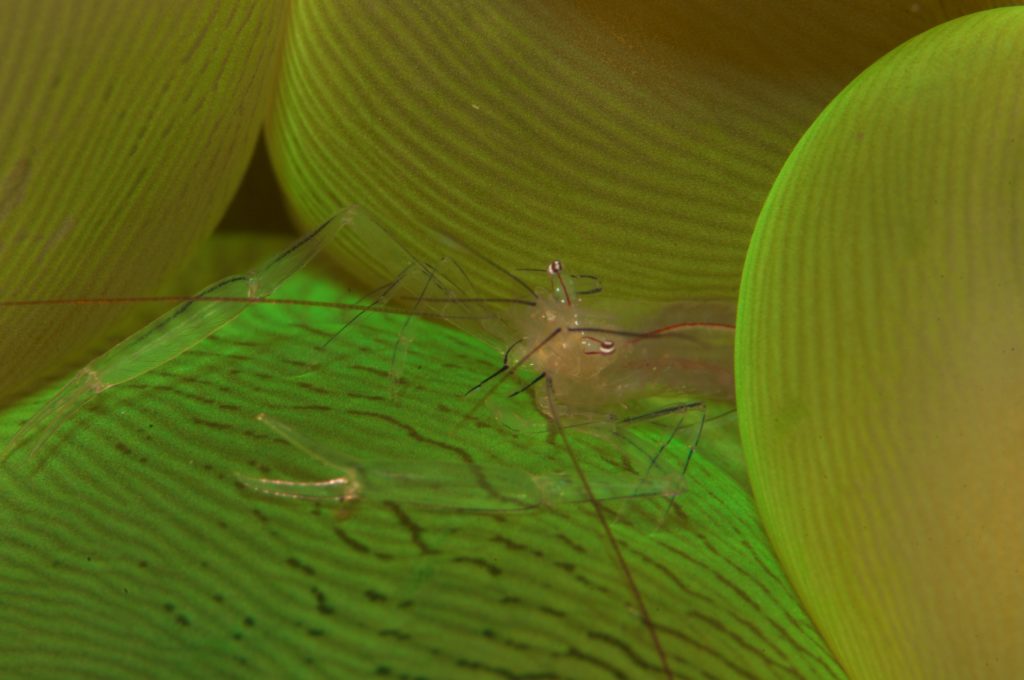 This place feels like you are in a completely different island. The Caribbean slope houses two jeepney wrecks that are covered in coral. It is the home of the leaf fish and some morays are also hiding in the steel framework of the cars. What is so remarkable about this dive sites is the amount of different black sun corals that make up most of the landscape. They are literally everywhere. Usually there is a bit of current in this area so it makes up as one our best drift dives. If you are lucky you can get far enough to see a very well preserved speedboat wreck at 30m.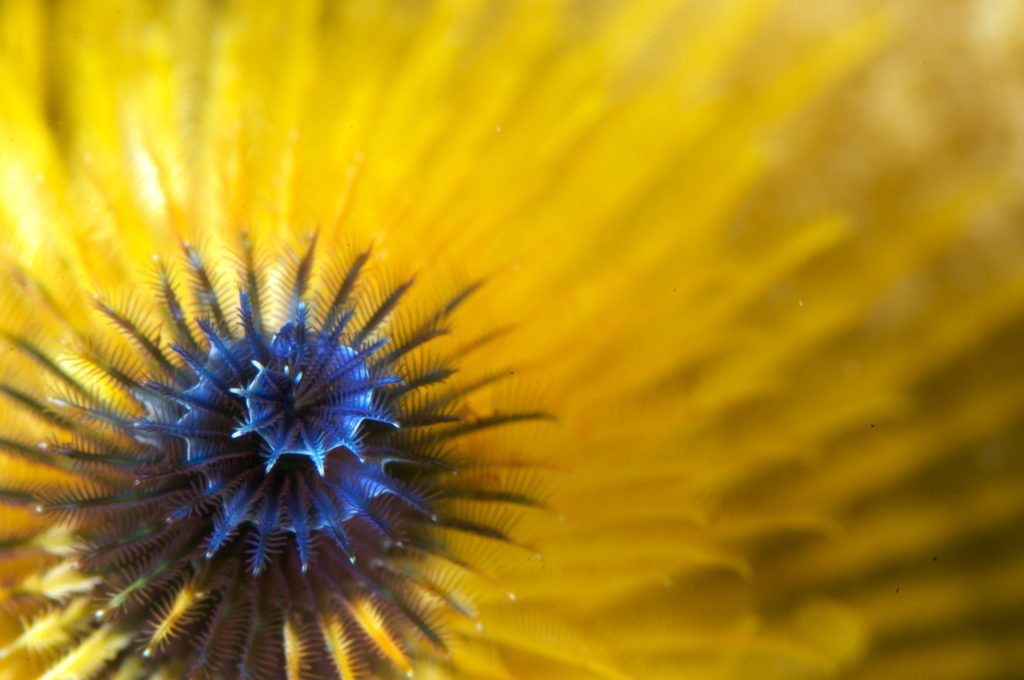 An arch shaped like a siphon in the reef creates a nice swim through, also known as "the hole in the wall". A much appreciated dive site by every divemaster on the island with groupers, wrasses, butterfly fishes, dog eels and moray eels on display. There are many frogfishes that call this place their home. On the reef crest devil scorpionfish hang out between the rubble. Arco might be the most diverse dive site when it comes to macro marine life. This place always holds many surprises.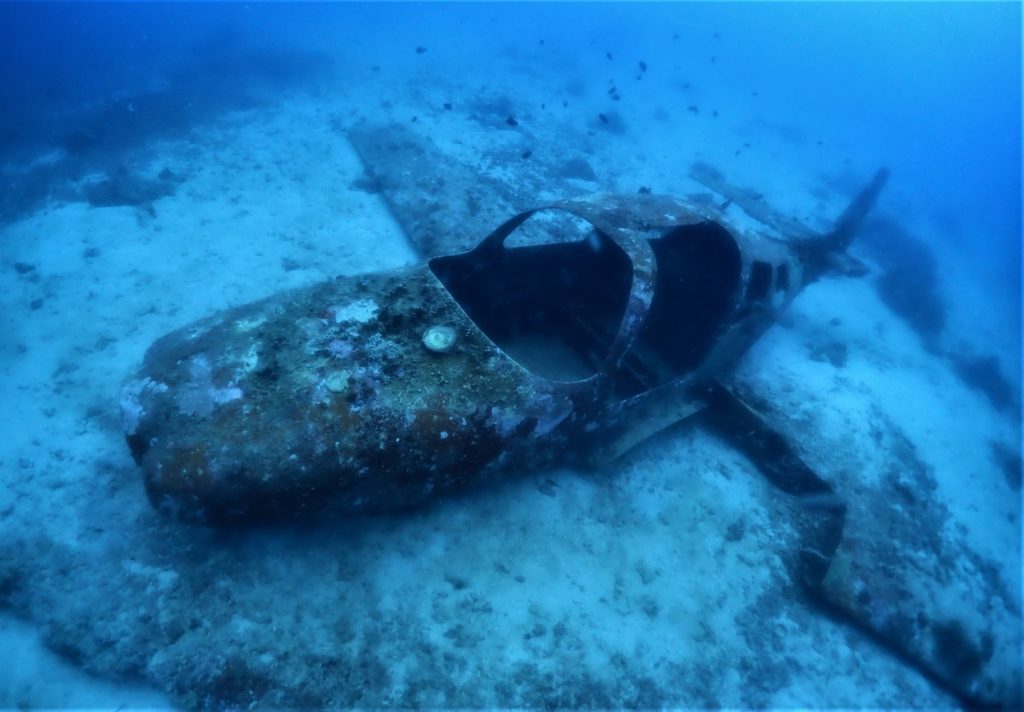 Our newest little wreck right in front of South Palms resort is one of the most famous divesites for freedivers these day who are looking for an Instagram opp. The place is really nice to enjoy the surreal view of an sunken airplane swarm- ing with colorful lionfishes.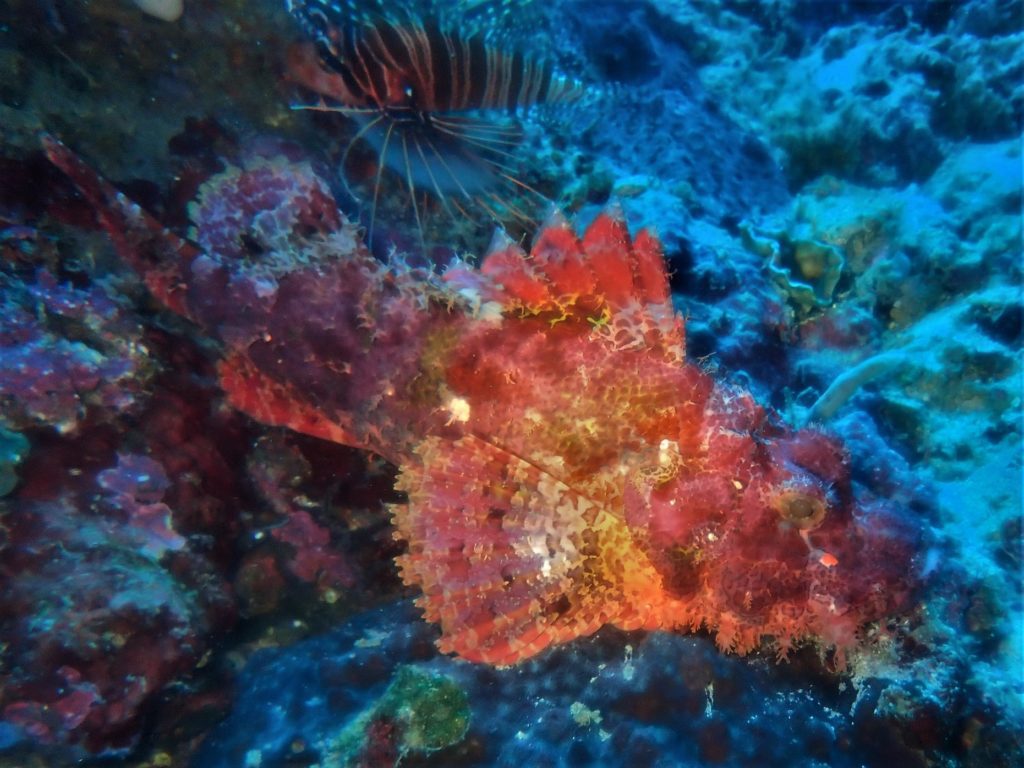 The most popular local wall dive by far with lots of soft & hard corals, gorgonian sea fans, cracks and crevices everywhere and a very rich connecting sand slope. There are hawksbill, as well as green turtles swimming around this area and sleeping in the little caverns along the wall. Some giant pufferfishes can usually be seen and many spearing mantis shrimps have been living in the slope adjourning the wall for many years. This is one of the spots where you are most likely to find the most colorful giant frogfish. From what we hear this site always stays engraved in our returning divers' minds.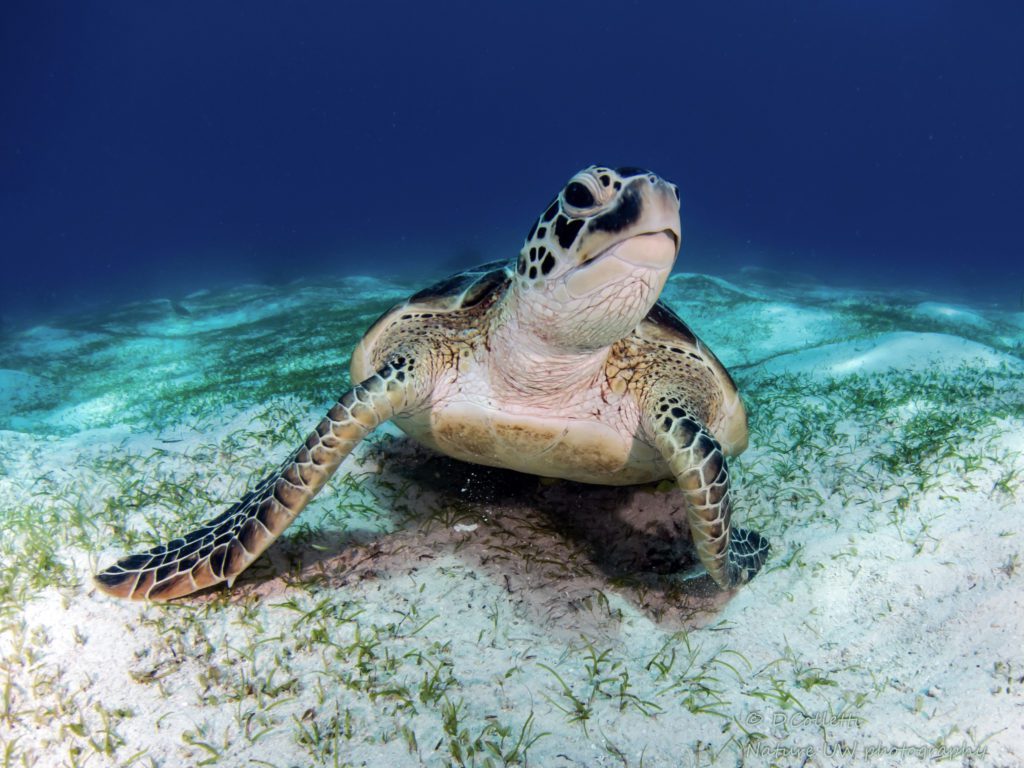 As the most undervalued local wall dive Danao Wall offers a plentitude of marine life and coral diversity. At 20m in the sand there is a table with chairs and a toilet bowl where you can see a giant frogfish hanging around sometimes. The wall offers beautiful views and there is a very nice over- hang where you can look for painted and warty frogfish. Besides the very steep wall there is a big sandy area with coral heads spread around. You can swim from one to the next and find the many different shrimp and crab species. The dive site is the last wall dive in line before Alona reef plunges into the great depths of the ocean.