Sumisid Lodge is a small and homely diver's accommodation. The front patio of the lodge connects with the dive center.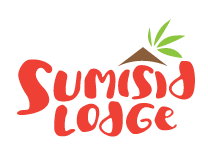 Cosy Lodge With Beautiful Ocean View
The cosy lodge has been operating since 1981 and was one of the first dive lodges at Panagsama Beach, Moalboal. It's located right next to Seaquest Dive Center, and has a very beautiful view on the ocean with the Island of Negros right across. The lodge has a very casual, laid back atmosphere, guests dress in t-shirts and shorts and get together at mealtimes, which are served 'buffet' style for groups or a la carte. Our kitchen has built up quite a reputation over the years, so make sure you sample our dishes!
Standard Fan Rooms
The standard Fan rooms can be find on the first floor of Sumisid Lodge. The rooms are basic and offer only a fan and shared bathroom facilities. The rooms are perfect for guest who likes to stay on budget.
Deluxe Room
The rooms are situated at the ground floor and are the biggest rooms that Sumisid Lodge can offer. Two of these rooms offer a beautiful sea view. 3 of our Deluxe rooms offers one (1) double bed & one (1) single bed. In the other two (2) Deluxe rooms we only offer two (2) single beds.